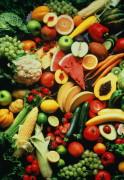 VeggieFix
Regular price $36.95 Sale
VeggieFix™
100% Vegetarian & Gluten-Free 

What is VeggieFix™? 

VeggieFix™ is a powerful green capsule, with nutrients that cleanse, regenerate, and energize your body at a cellular level. Emerging scientific evidence indicates that ingredients found in plants may play a crucial role in preventing the onset of major degenerative diseases including cancer, cardiovascular disease, and cataracts. A diet based on fresh, raw, minimally processed foods is the best strategy for providing the body with these nutrients but the foods that contain them are sometimes difficult to consume. VeggieFix™ contains an amazing variety of phytonutrients extracted from specially grown plants and vegetables.

Who Should Take VeggieFix™?
VeggieFix™is recommended for anyone who does not consume 5 daily servings of fresh fruits and vegetables a day and anyone suffering from allergies, indigestion, lack of energy or excessive stress. 


VeggieFix™ Supplement Facts
100% Vegetarian and Gluten-Free

Serving Size: 1 capsule
Servings Per Container: 90
Suggest use: 1 - 3 capsules 3 times a day
Item

Amount Per Serving

% Daily Value

Proprietary blend

875 mgs

*

Green Tea Extract

160 mgs

*

(Blueberry, cranberry, grapeseed, strawberry, raspberry, pomegranate, bilberry, alfalfa, carrot, beet, broccoli, acai, chokeberry, apple, apple pectin, maqui, grape skin, black cherry, tomato, barley, celery, chlorella, black currant, artichoke, mango, pineapple, spirulina, chlorophyllin, dandelion, wheatgrass, green tea, milk thistle, eleuthero, ashitaba, bing cherry, elderberry, goji, grapefruit, mangosteen, spinach, tart cherry, and papaya)
 
 The Process 

The raw materials used in VeggieFix™ are supplied through state of the art processing technologies designed to maximize nutrient bioavailability. The methods in which raw materials are processed and stored is a major concern for companies that have a high standard for efficacy in their formulations and finished products. Due to the severe conditions to which most materials are subjected during processing, valuable phytonutrients and co-factors are lost, compromising the integrity of the material. Unlike many companies, HealthyFix strives to deliver whole food fiber and juice powders in a state that most closely resembles the food in its peak, 'just-harvested' form. The challenge is to concentrate and dry the fruit, vegetable, and cereal grass fibers and juices into micronized powders while avoiding the addition of inert excipients and preserving the highly valued enzymes and living components of the foods. 
Rather than relying on chemical additives, high temperatures, and high pressure to extract nutrients, HealthyFix 100% pure, micronized juice powder utilizing no carriers. This process allows for a product with a supreme level of bio-availability. The juice is dried at a maximum temperature of 88° F. Most enzymes are inactivated in temperatures above 118° F. 
This process maintains the integrity of the food without disrupting the tenuous balance of vitamins, minerals, enzymes, probiotics, and other co-factors contained within the whole food. 
In addition to the purifying grasses and juices richly used in VeggieFix™, we have added other beneficial ingredients to make this formulation complete. 

Green Tea has been used for its antioxidant effects for centuries. Recent clinical evidence indicates that daily consumption of green tea may decrease the incidence of certain types of cancers. While the evidence supporting this benefit is substantial it is not conclusive. 

Spirulina platensis (SP) is a unicellular filamentous blue-green alga that has been consumed by man since ancient times. SP contains valuable proteins, essential amino acids, vitamins, beta-carotene, and other phyto-pigments, minerals, essential fatty acids and polysaccharides. 


Chlorella is a single-celled microalga containing high concentrations of whole food nutrients. There is a history of use of these types of algae as foods and as food additives, and Chlorella has been widely investigated by the space program as food for man. 
Scientists have recently identified high molecular weight polysaccharide (long-chain sugar molecule) in this alga. These polysaccharides have been shown to increase levels of interleukin-1 beta and tumor necrosis factor-alpha. The authors stated that these polysaccharides were between 100 and 1,000 times more active for in vitro monocyte activation than polysaccharide preparations used clinically. 

Price JA 3rd, Sanny c, Shevlin D., 2002. Inhibition of mast cells by algae. J Med Food. Winter; 5(4): 205-10. 
Merchant, RE, and Andre CA., 2001. A review of recent clinical trials of the nutritional supplement Chlorella pyrenoidosa in the treatment of fibromyalgia, hypertension, and ulcerative colitis, Altern Ther Health Med., 7(3): 79-91. 

Pugh, N., et al., 2001. Isolation of three high molecular weight polysaccharide preparations with potent immunostimulatory activity from Spirulina platensis, Aphanizomenon flos-aquae, and Chlorella pyrenoidosa, Planta Med., 67(8):737-42 

VeggieFix™ is a proprietary blend formulated exclusively for HealthyFix. HealthyFix is a Registered Trademark all rights reserved. 

These statements have not been evaluated by the Food and Drug Administration. This product is not intended to diagnose, treat, cure or prevent any disease. 

Green Tea Update December 10, 2004 

Drinking tea not as beneficial as taking green tea supplements 

A study published in the December 2004 issue of the American Journal of Clinical Nutrition (http://www.ajcn.org/) found that green tea extract supplements offered greater bioavailability of polyphenols and increase plasma antioxidant activity compared to tea consumed as a beverage. Tea has 
been found to be protective against cancer and other diseases, and green tea polyphenols are taken in supplement form by many individuals to obtain their antioxidants and benefits. 

Researchers at the University of California, Los Angeles assigned three different sequences Darjeeling black tea, green tea, or green tea capsules containing similar amounts of EGCG to 14 men and 16 women, with one week between each treatment period. Tea flavanol, theaflavin, and caffeine were measured in the teas before administration to the participants. Blood samples collected before consumption of the tea or tea supplement, and at 1, 2, 4, 6, and 8 hours measured the polyphenols epigallocatechin (EGC), 
epicatechin (EC), epigallocatechin-3-gallate (EGCG) and 
epicatechin-3-gallate (ECG). 

Although polyphenol absorption after taking encapsulated green tea extract was delayed, it proved to be greater than polyphenol absorption from green or black tea consumed as a beverage. This led to the green tea supplement producing a small but significant increase in plasma antioxidant activity compared to black or green tea. 

The authors conclude that "green tea extract supplements retain the beneficial effects of green and black tea and may be used in future chemoprevention studies to provide a large dose of tea polyphenols without 
the side effects of caffeine associated with green and black tea beverages."